2021 Evergreen Award™ Nominees
adult, fiction / non-fiction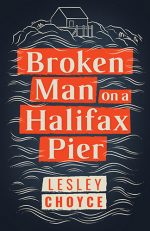 Broken Man on a Halifax Pier
Written By Lesley Choyce
Dundurn Press
Fifty-five-year-old Charles Howard has lost his long-time journalism job and has been swindled out of his life savings. Standing by the edge of Halifax Harbour on a foggy morning, contemplating his dismal future, his ritual of self-pity is interrupted with the appearance of the mysterious and beguiling Ramona Danforth. And so begins a most interesting relationship.
On a whim, Charles asks Ramona to drive him to his childhood home, Stewart Harbour, a fishing village populated by rugged individualists far down Nova Scotia's remote Eastern Shore. Charles left the Harbour immediately after graduating from high school and never looked back. And now that he's returned, the past starts catching up with him in ways he could never have imagined.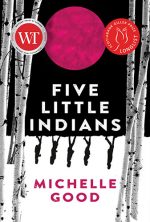 Five Little Indians
Written By Michelle Good
HarperCollins Publishers Ltd
Taken from their families when they are very small and sent to a remote, church-run residential school, Kenny, Lucy, Clara, Howie and Maisie are barely out of childhood when they are finally released after years of detention.
Alone and without any skills, support or families, the teens find their way to the seedy and foreign world of Downtown Eastside Vancouver, where they cling together, striving to find a place of safety and belonging in a world that doesn't want them. The paths of the five friends cross and crisscross over the decades as they struggle to overcome, or at least forget, the trauma they endured during their years at the Mission.
Fuelled by rage and furious with God, Clara finds her way into the dangerous, highly charged world of the American Indian Movement. Maisie internalizes her pain and continually places herself in dangerous situations. Famous for his daring escapes from the school, Kenny can't stop running and moves restlessly from job to job—through fishing grounds, orchards and logging camps—trying to outrun his memories and his addiction. Lucy finds peace in motherhood and nurtures a secret compulsive disorder as she waits for Kenny to return to the life they once hoped to share together. After almost beating one of his tormentors to death, Howie serves time in prison, then tries once again to re-enter society and begin life anew.
With compassion and insight, Five Little Indians chronicles the desperate quest of these residential school survivors to come to terms with their past and, ultimately, find a way forward.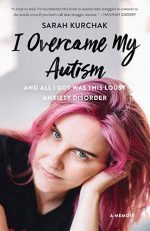 I Overcame My Autism and All I Got Was This Lousy Anxiety Disorder: A Memoir
Written By Sarah Kurchak
Douglas & McIntyre Ltd.
Sarah Kurchak is autistic. She hasn't let that get in the way of pursuing her dream to become a writer, or to find love, but she has let it get in the way of being in the same room with someone chewing food loudly, and of cleaning her bathroom sink. In I Overcame My Autism and All I Got Was This Lousy Anxiety Disorder, Kurchak examines the Byzantine steps she took to become "an autistic success story," how the process almost ruined her life and how she is now trying to recover.
Growing up undiagnosed in small-town Ontario in the eighties and nineties, Kurchak realized early that she was somehow different from her peers. She discovered an effective strategy to fend off bullying: she consciously altered nearly everything about herself—from her personality to her body language. She forced herself to wear the denim jeans that felt like being enclosed in a sandpaper iron maiden. Every day, she dragged herself through the door with an elevated pulse and a churning stomach, nearly crumbling under the effort of the performance. By the time she was finally diagnosed with autism at twenty-seven, she struggled with depression and anxiety largely caused by the same strategy she had mastered precisely. She came to wonder, were all those years of intensely pretending to be someone else really worth it?
Tackling everything from autism parenting culture to love, sex, alcohol, obsessions and professional pillow fighting, Kurchak's enlightening memoir challenges stereotypes and preconceptions about autism and considers what might really make the lives of autistic people healthier, happier and more fulfilling.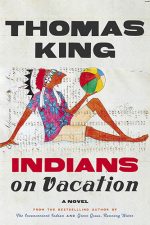 Indians on Vacation
Written By Thomas King
HarperCollins Publishers Ltd
Meet Bird and Mimi in this brilliant new novel from one of Canada's foremost authors. Inspired by a handful of old postcards sent by Uncle Leroy nearly a hundred years earlier, Bird and Mimi attempt to trace Mimi's long-lost uncle and the family medicine bundle he took with him to Europe.
"I'm sweaty and sticky. My ears are still popping from the descent into Vaclav Havel. My sinuses ache. My stomach is upset. My mouth is a sewer. I roll over and bury my face in a pillow. Mimi snuggles down beside me with no regard for my distress.
'My god,' she whispers, 'can it get any better?'"
By turns witty, sly and poignant, this is the unforgettable tale of one couple's holiday trip to Europe, where their wanderings through its famous capitals reveal a complicated history, both personal and political.
The Library of Legends
Written By Janie Chang
HarperCollins Publishers Ltd
China, 1937. When Japanese bombs begin falling on the city of Nanking, nineteen-year-old Hu Lian and her classmates at Minghua University are ordered to flee. Lian and a convoy of students, faculty and staff must walk 1,000 miles to the safety of China's western provinces, a journey marred by the constant threat of aerial attack. And it is not just the refugees who are at risk; Lian and her classmates have been entrusted with a priceless treasure: a 500-year-old collection of myths and folklore known as the Library of Legends.
The students' common duty to safeguard the Library of Legends creates unexpected bonds. Lian becomes friends and forms a cautious romance with the handsome and wealthy Liu Shaoming. But after one classmate is arrested and another one is murdered, Lian realizes she must escape before a family secret puts her in danger too. Accompanied by Shao and his enigmatic maidservant, Sparrow, Lian makes her way to Shanghai in the hopes of reuniting with her mother.
During the journey, Lian learns of the connection between her two companions and a tale from the Library of Legends, The Willow Star and the Prince. This revelation comes with profound consequences, for as the ancient books travel across China, they awaken immortals and guardian spirits who embark on an exodus of their own, one that will change the country's fate forever.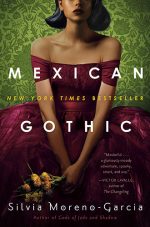 Mexican Gothic
Written By Silvia Moreno-Garcia
Del Rey
After receiving a frantic letter from her newly-wed cousin begging for someone to save her from a mysterious doom, Noemí Taboada heads to High Place, a distant house in the Mexican countryside. She's not sure what she will find—her cousin's husband, a handsome Englishman, is a stranger, and Noemí knows little about the region.
Noemí is also an unlikely rescuer: She's a glamorous debutante, and her chic gowns and perfect red lipstick are more suited for cocktail parties than amateur sleuthing. But she's also tough and smart, with an indomitable will, and she is not afraid: Not of her cousin's new husband, who is both menacing and alluring; not of his father, the ancient patriarch who seems to be fascinated by Noemí; and not even of the house itself, which begins to invade Noemi's dreams with visions of blood and doom.
Her only ally in this inhospitable abode is the family's youngest son. Shy and gentle, he seems to want to help Noemí, but might also be hiding dark knowledge of his family's past. For there are many secrets behind the walls of High Place. The family's once colossal wealth and faded mining empire kept them from prying eyes, but as Noemí digs deeper she unearths stories of violence and madness.
And Noemí, mesmerized by the terrifying yet seductive world of High Place, may soon find it impossible to ever leave this enigmatic house behind.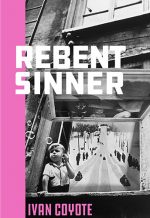 Rebent Sinner
Written By Ivan Coyote
Arsenal Pulp Press
In their latest, Ivan takes on the patriarchy and the political, as well as the intimate and the personal in these beguiling and revealing stories of what it means to be trans and non-binary today, at a time in their life when they must carry the burden of heartbreaking history with them, while combatting those who would misgender them or deny their very existence. These stories span thirty years of tackling TERFs, legislators, and bathroom police, sure, but there is joy and pleasure and triumph to be found here too, as Ivan pays homage to personal heroes like the late Leslie Feinberg while gently guiding younger trans folk to prove to themselves that there is a way out of the darkness.
Rebent Sinner is the work of an accomplished artist whose plain truths about their experience will astound readers with their utter, breathtaking humanity.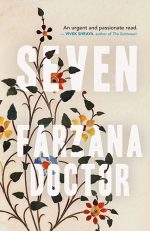 Seven
Written By Farzana Doctor
Dundurn Press
A brave, soulfully written feminist novel about inheritance and resistance that tests the balance between kinship and the fight against customs that harm us.
When Sharifa accompanies her husband on a marriage-saving trip to India in 2016, she thinks that she's going to research her great-great-grandfather, a wealthy business leader and philanthropist. What captures her imagination is not his rags-to-riches story, but the mystery of his four wives, missing from the family lore. She ends up excavating much more than she had imagined.
Sharifa's trip coincides with a time of unrest within her insular and conservative religious community, and there is no escaping its politics. A group of feminists is speaking out against khatna, an age-old ritual they insist is female genital cutting. Sharifa's two favourite cousins are on opposite sides of the debate and she seeks a middle ground. As the issue heats up, Sharifa discovers an unexpected truth and is forced to take a position.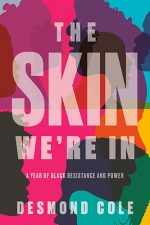 The Skin We're In: A Year of Black Resistance and Power
Written By Desmond Cole
Doubleday Canada
A bracing, provocative, and perspective-shifting book from one of Canada's most celebrated and uncompromising writers, Desmond Cole. The Skin We're In will spark a national conversation, influence policy, and inspire activists.
In his 2015 cover story for Toronto Life magazine, Desmond Cole exposed the racist actions of the Toronto police force, detailing the dozens of times he had been stopped and interrogated under the controversial practice of carding. The story quickly came to national prominence, shaking the country to its core and catapulting its author into the public sphere. Cole used his newfound profile to draw insistent, unyielding attention to the injustices faced by Black Canadians on a daily basis.
Both Cole's activism and journalism find vibrant expression in his first book, The Skin We're In. Puncturing the bubble of Canadian smugness and naive assumptions of a post-racial nation, Cole chronicles just one year—2017—in the struggle against racism in this country. It was a year that saw calls for tighter borders when Black refugees braved frigid temperatures to cross into Manitoba from the States, Indigenous land and water protectors resisting the celebration of Canada's 150th birthday, police across the country rallying around an officer accused of murder, and more.
The year also witnessed the profound personal and professional ramifications of Desmond Cole's unwavering determination to combat injustice. In April, Cole disrupted a Toronto police board meeting by calling for the destruction of all data collected through carding. Following the protest, Cole, a columnist with the Toronto Star, was summoned to a meeting with the paper's opinions editor and informed that his activism violated company policy. Rather than limit his efforts defending Black lives, Cole chose to sever his relationship with the publication. Then in July, at another police board meeting, Cole challenged the board to respond to accusations of a police cover-up in the brutal beating of Dafonte Miller by an off-duty police officer and his brother. When Cole refused to leave the meeting until the question was publicly addressed, he was arrested. The image of Cole walking out of the meeting, handcuffed and flanked by officers, fortified the distrust between the city's Black community and its police force.
Month-by-month, Cole creates a comprehensive picture of entrenched, systemic inequality. Urgent, controversial, and unsparingly honest, The Skin We're In is destined to become a vital text for anti-racist and social justice movements in Canada, as well as a potent antidote to the all-too-present complacency of many white Canadians.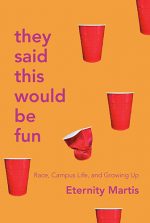 They Said This Would Be Fun: Race, Campus Life, and Growing Up
Written By Eternity Martis
McClelland & Stewart
A powerful, moving memoir about what it's like to be a student of colour on a predominantly white campus.
A booksmart kid from Toronto, Eternity Martis was excited to move away to Western University for her undergraduate degree. But as one of the few Black students there, she soon discovered that the campus experiences she'd seen in movies were far more complex in reality. Over the next four years, Eternity learned more about what someone like her brought out in other people than she did about herself. She was confronted by white students in blackface at parties, dealt with being the only person of colour in class and was tokenized by her romantic partners. She heard racial slurs in bars, on the street, and during lectures. And she gathered labels she never asked for: Abuse survivor. Token. Bad feminist. But, by graduation, she found an unshakeable sense of self—and a support network of other women of colour.
Using her award-winning reporting skills, Eternity connects her own experience to the systemic issues plaguing students today. It's a memoir of pain, but also resilience.