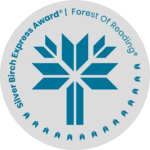 2021 Silver Birch Express Award® Nominees
ages 8-10, Grades 3–4  |  English, fiction / non-fiction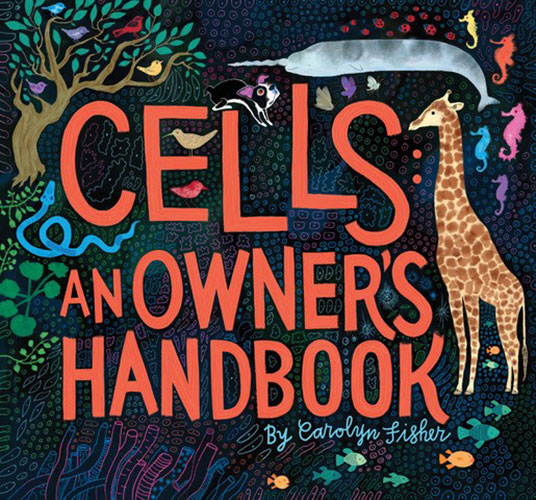 Cells: An Owner's Handbook
Written by and Illustrated by Carolyn Fisher
Published by Beach Lane Books
Join Ellie, a skin cell who lives on the derrière of a Boston Terrier, as she tells readers all about the amazing cells that make up every living thing on Earth. Did you know that every human is the proud owner of 37 trillion cells? (Give or take a few trillion.) They're the itty-bitty building blocks that stack together to make you, you! Join a smart and silly skin cell named Ellie as she explains what a cell looks like, what a cell does, how cells divide and multiply, and much, much more in this fascinating and funny nonfiction picture book.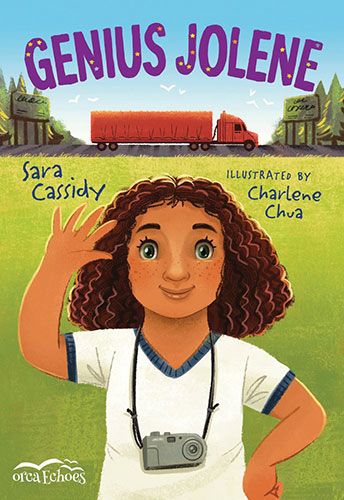 Genius Jolene
Written by Sara Cassidy, Illustrated by Charlene Chua
Published by Orca Book Publishers
On her annual trip in her father's 18-wheeler, eight-year-old Jolene is headed to Los Angeles on a six-day road trip to deliver some newsprint with her dad. Just like last year, they tell each other stories and listen to music. They also keep up their favorite tradition: critiquing one type of food at every stop. This time it's onion rings. But this year is also different. Unlike last year, Jolene's parents are no longer together. They split up when her father came out as gay. These are big changes for Jolene, but she is spunky and smart and has a good heart. She's ready for new adventures and to stand up for what's right—both on and off the road.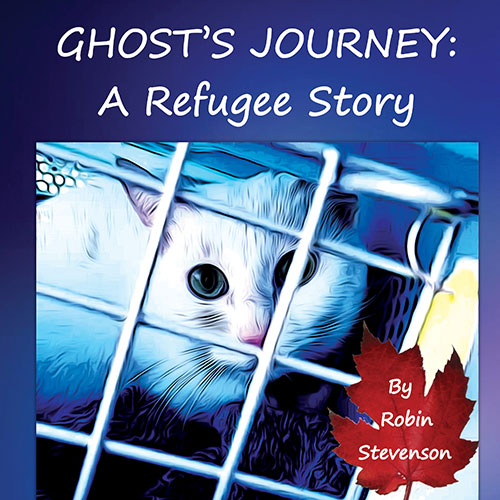 Ghost's Journey: A Refugee Story
Written by Robin Stevenson, Illustrated by Rainer Oktovianus
Published by Rebel Mountain Press
This book is based on the true story of Eka, Rainer, and their cat, Ghost. When life in Indonesia becomes too dangerous for LGBTQ people, Ghost and her two dads are forced to leave their home and escape to freedom in Canada. The story is told from the perspective of Ghost.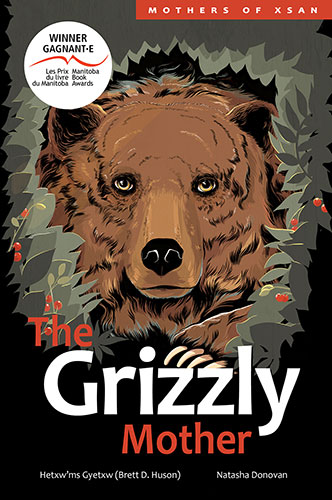 The Grizzly Mother
Written by Hetxw'ms Gyetxw, Illustrated by Natasha Donovan
Published by HighWater Press
An engaging look at how the animals, people, and seasons within an ecosystem are intertwined. To the Gitxsan people of Northwestern British Columbia, the grizzly is an integral part of the natural landscape. Together, they share the land and forests that the Skeena River runs through, as well as the sockeye salmon within it. Follow mother bear as she teaches her cubs what they need to survive on their own. The Mothers of Xsan series uses striking illustration and lyrical language to bring the poetry of the Xsan ecosystem to life.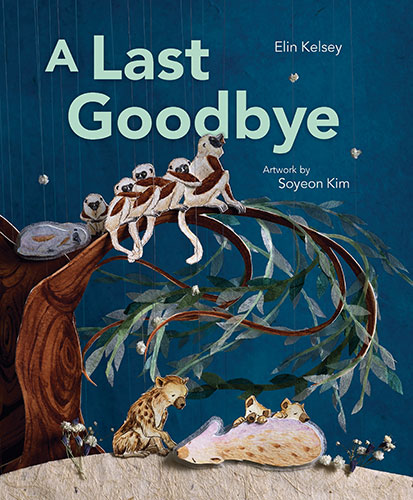 A Last Goodbye
Written by Elin Kelsey, Illustrated by Soyeon Kim
Published by Owlkids Books Inc.
How can we cope with feelings of loss? How do we say goodbye to a loved one after they die? This book broaches a difficult topic in a heartfelt way by exploring the beauty in how animals mourn. From elephants to whales, parrots to bonobos, and lemurs to humans, we all have rituals to commemorate our loved ones and to lift each other up in difficult times of change and loss. New from an award-winning team, this book gently recognizes death as a natural part of life for humans and all animals. Written in spare, poetic language and illustrated with stunning dioramas, it draws out our similarities with other animals as it honours the universal experience of mourning. The touching and uplifting book ends on a hopeful note, showing how we live on, both in memories and on the planet, our bodies nourishing new life in the Earth and the oceans.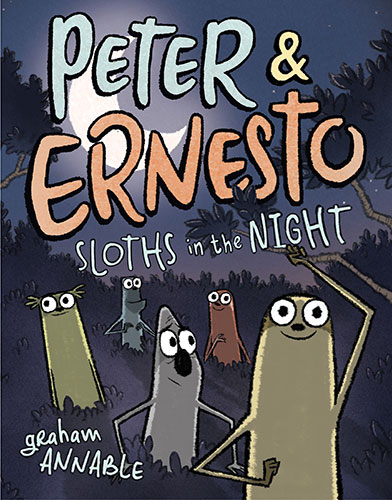 Peter and Ernesto: Sloths in the Night
Written by and Illustrated by Graham Annable
Published by First Second, Distributed by Raincoast Books
Peter and Ernesto love the jungle, but they know how dangerous it can be at night. From clumsy bats to crazed owls to rumours of a dragon, there are countless things that make the darkness perilous for sloths. That's why, one day, when their friend Bernard goes missing just as the sun is setting, Peter and Ernesto quickly gather their tribe to form a search party. However, while these sloths have some sense of the dangers that they'll face while looking for Bernard, there are surprises lurking in the shadows that will surpass their wildest imaginings!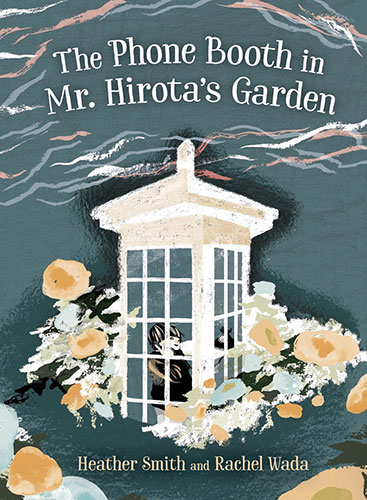 The Phone Booth in Mr. Hirota's Garden
Written by Heather Smith, Illustrated by Rachel Wada
Published by Orca Book Publishers
When the tsunami destroyed Makio's village, Makio lost his father … and his voice. The entire village is silenced by grief, and the young child's anger at the ocean grows. Then one day his neighbor, Mr. Hirota, begins a mysterious project—building a phone booth in his garden. At first Makio is puzzled; the phone isn't connected to anything. It just sits there, unable to ring. But as more and more villagers are drawn to the phone booth, its purpose becomes clear to Makio: the disconnected phone is connecting people to their lost loved ones. Makio calls to the sea to return what it has taken from him and ultimately finds his voice and solace in a phone that carries words on the wind. The Phone Booth in Mr. Hirota's Garden is inspired by the true story of the wind phone in Otsuchi, Japan, which was created by artist Itaru Sasaki. He built the phone booth so he could speak to his cousin who had passed, saying, "My thoughts couldn't be relayed over a regular phone line, I wanted them to be carried on the wind." The Tohoku earthquake and tsunami in 2011 destroyed the town of Otsuchi, claiming 10 percent of the population. Residents of Otsuchi and pilgrims from other affected communities have been traveling to the wind phone since the tsunami.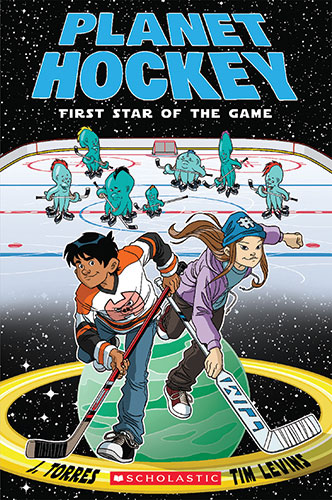 Planet Hockey: First Star of the Game
Written by J. Torres, Illustrated by Tim Levins
Published by Scholastic Canada Ltd.
Isaac may be the G.O.A.T (Greatest Of All Time) in his hockey video game, but after a championship game-losing accident, he's an epic fail on actual ice. Unfortunately, the Pods' robot scout from Planet Galaxia doesn't know this, and beams him up and away to be the new superstar of their terrible team—the worst in the GL (Galaxian Hockey League). Fortunately for the Pods, Isaac's new neighbour Lily is along for the ride—and she just might be the best goalie this side of the Milky Way. But the interstellar game isn't quite like hockey on Earth. The stakes are higher. Opposing players are shaped like trees, or electrified, or built like actual boulders. And even if Isaac is able to whip the octopus-like Pods into shape, Emperor Mad Maroon, the ruler of Galaxia, might not release the Earthlings. Can Isaac score a win in the Galaxia Championship Tournament … and get back to home ice?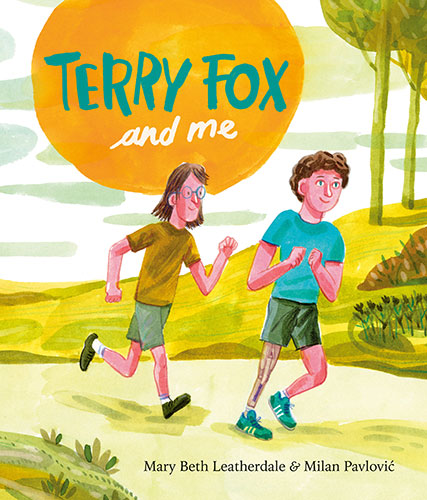 Terry Fox and Me
Written by Mary Beth Leatherdale, Illustrated by Milan Pavlović
Published by Tundra
Celebrating the 40th anniversary of the Terry Fox Marathon of Hope, this picture book biography tells the story of a friendship defined by strength and love. Before Terry Fox become a national hero and icon, he was just a regular kid. But even then, his characteristic strength, determination and loyalty were apparent and were the foundation for his friendship with Doug. The two first met at basketball tryouts in grammar school. Terry was the smallest – and worst – basketball player on the court. But that didn't stop him. With Doug's help, Terry practiced and practiced until he earned a spot on the team. As they grew up, the best friends supported each other, challenged each other, helped each other become better athletes and better people. Doug was by Terry's side every step of the way: when Terry received a diagnosis of cancer in his leg, when he was learning to walk – then run – with a prosthetic leg and while he was training for the race of his life, his Marathon of Hope. Written from Doug's perspective, this story shows that Terry Fox's legacy goes beyond the physical and individual accomplishments of a disabled athlete and honours the true value of friendship.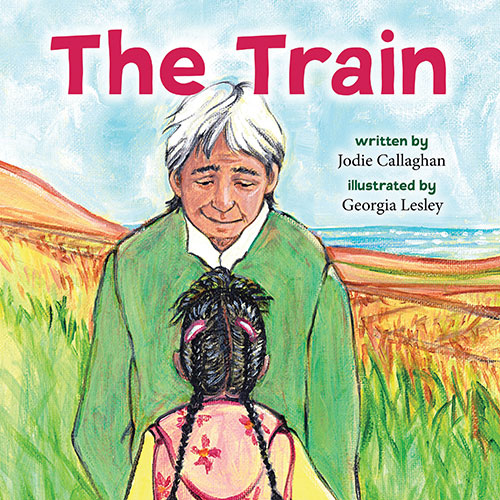 The Train
Written by Jodie Callaghan, Illustrated by Georgia Lesley
Published by Second Story Press
Ashley meets her great-uncle by the old train tracks near their community in Nova Scotia. When she sees his sadness, he shares with her the history of those tracks. Uncle tells her that during his childhood the train would bring their community supplies, but there came a day when the train took away with it something much more important. One day he and the other children from the reserve were taken aboard and transported to residential school, where their lives were changed forever. They weren't allowed to speak Mi'gmaq and were punished if they did. Uncle tells her he tried not to be noticed, like a little mouse, and how hard it was not to have the love and hugs and comfort of family. He also tells Ashley how happy she and her sister make him. They are what give him hope. Ashley promises to wait with her uncle as he sits by the tracks, waiting for what was taken from their people to come back to them.