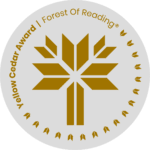 2021 Yellow Cedar Award Nominees
ages 9-14, Grades 4–8  |  English, non-fiction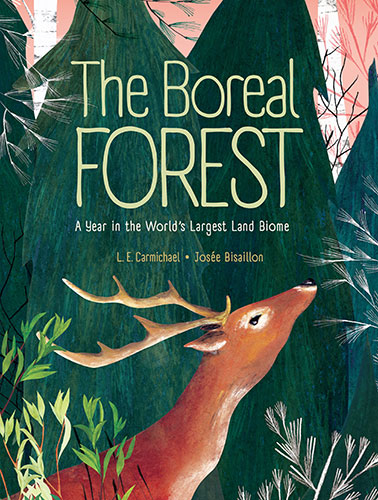 The Boreal Forest: A Year In The World's Largest Land Biome
Written by L. E. Carmichael, Illustrated by Josée Bisaillon
Published by Kids Can Press
Combining lyrical storytelling with expertly researched informational text, this beautiful book provides a year-long tour of the planet's largest land biome — one of our most important wildernesses. The vast boreal forest spans a dozen countries in the northern regions like "a scarf around the neck of the world," making it the planet's largest land biome. Besides providing homes for a diversity of species, this spectacular forest is also vitally important to the planet: its trees clean our air, its wetlands clean our water and its existence plays an important role in slowing global climate change. In this beautifully written book, award-winning author L. E. Carmichael explores this special wilderness on a tour of the forest throughout the four seasons, from one country to another. Evocative watercolour and collage artwork by award-winning illustrator Josée Bisaillon provides a rare glimpse of one of the world's most magnificent places.
With excellent STEM applications in earth science and life science, this enjoyable book aims to foster environmental awareness of and appreciation for this crucial forest and its interconnections with the entire planet. In a unique approach, the text features a lyrical fictional narrative describing the wildlife in a specific part of the forest, paired with informational sidebars to provide further understanding and context. Also included are a world map of the forest, infographics on the water cycle and the carbon cycle, a glossary, resources for further reading, author's sources and an index. This book has been reviewed by experts and was written in consultation with Indigenous peoples who live in the boreal forest region.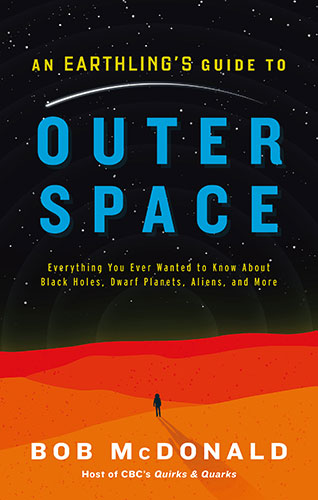 An Earthling's Guide to Outer Space: Everything You Ever Wanted to Know about Black Holes, Dwarf Planets, Aliens, and More
Written by Bob McDonald
Published by Simon & Schuster Canada
Beloved science commentator Bob McDonald takes us on a tour of our galaxy, unraveling the mysteries of the universe and helping us navigate our place among the stars. How big is our galaxy? Is there life on those distant planets? Are we really made of star dust? And where do stars even come from? In An Earthling's Guide to Outer Space, we finally have the answers to all those questions and more. With clarity, wisdom, and a great deal of enthusiasm, McDonald explores the curiosities of the big blue planet we call home as well as our galactic neighbours—from Martian caves to storm clouds on Jupiter to the nebulae at the far end of the universe. So if you're pondering how to become an astronaut, or what dark matter really is, or how an asteroid wiped out the dinosaurs, look no further. Through a captivating mix of stories, experiments, and illustrations, McDonald walks us through space exploration past and present, and reveals what we can look forward to in the future. An Earthling's Guide to Outer Space is sure to satisfy science readers of all ages, and to remind us earthbound terrestrials just how special our place in the universe truly is.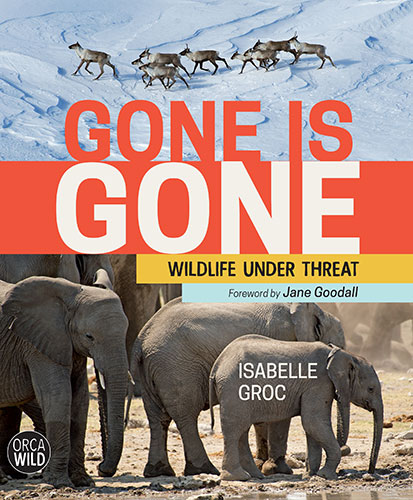 Gone Is Gone: Wildlife Under Threat
Written by Isabelle Groc
Published by Orca Book Publishers
Gone is Gone looks at why species become endangered, how scientists are learning about endangered wildlife, what people are doing to conserve species and ways young people can help. The book is richly illustrated with unique photos that Isabelle has taken over many years of observing endangered species in the field alongside the people who work to conserve them. Throughout, the author shares enchanting encounters and personal field stories: watching narwhals socialize in the Canadian Arctic, getting close to a Laysan albatross raising chicks on a remote Hawaiian island, spotting a rhinoceros on safari and even swimming with sea lions in the Galapagos Islands. Gone is Gone will inform, intrigue and inspire readers to take small steps toward big changes for endangered species around the world.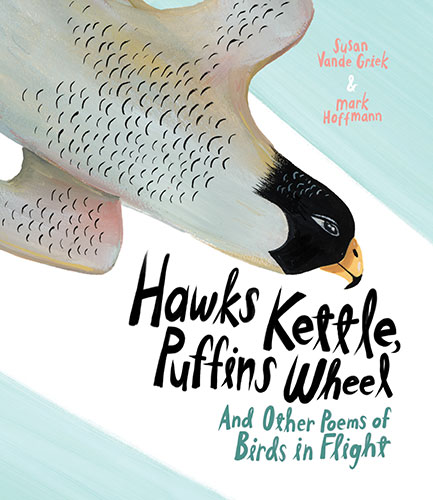 Hawks Kettle, Puffins Wheel: And Other Poems of Birds in Flight
Written by Susan Vande Griek, Illustrated by Mark Hoffmann
Published by Kids Can Press
This lyrical celebration of birds explores the fascinating ways these creatures move through the air. For each of twelve birds from around the world, a captivating poem describes the animal's distinctive movement and the special word associated with that movement, from geese who skein and puffins who wheel, to crows who mob and starlings who murmurate. The evocative language conveys the beauty of each bird and describes the sights and sounds of how each one makes its own unmistakable way in the world. An informational sidebar complements each poem, describing the reasons behind the bird's way of flying. Award-winning children's author Susan Vande Griek has created a unique exploration of the magnificence of birds in flight. Illustrator Mark Hoffmann captures the animals with bold, highly engaging artwork that makes this book a visual standout among traditional nature books. All of the factual content has been verified by ornithological experts. End matter includes further information about each bird and a glossary. Along with the book's use for poetry units, it also has applications for life science lessons on animals and the characteristics of living things.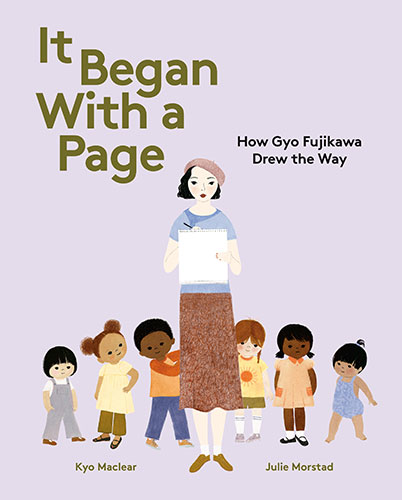 It Began With a Page: How Gyo Fujikawa Drew the Way
Written by Kyo Maclear, Illustrated by Julie Morstad
Published by Tundra
Gyo Fujikawa's iconic children's books are beloved all over the world. Now it's time for Gyo's story to be told — a story of artistic talent that refused to be constrained by rules or expectations. Growing up quiet and lonely at the beginning of the twentieth century, Gyo learned from her relatives the ways in which both women and Japanese people lacked opportunity. Her teachers and family believed in her and sent her to art school and later Japan, where her talent flourished. But while Gyo's career grew and led her to work for Walt Disney Studios, World War II began, and with it, her family's internment. But Gyo never stopped fighting — for herself, her vision, her family and her readers — and later wrote and illustrated the first children's book to feature children of different races interacting together. This luminous new book beautifully and openly touches on Gyo's difficult experiences and growth. Through Julie Morstad's exquisite illustrations, alternating between striking black-and-white linework and lush colour, and Kyo Maclear's artful and accessible writing, the story of this cherished figure is told at last.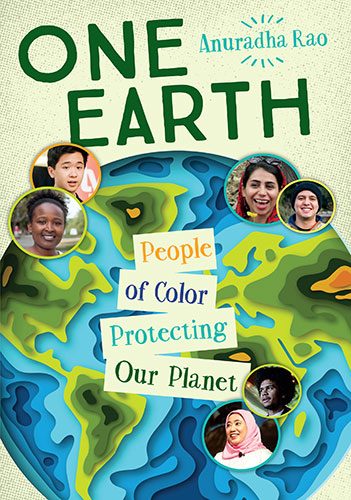 One Earth: People of Color Protecting Our Planet
Written by Anuradha Rao
Published by Orca Book Publishers
One Earth profiles Black, Indigenous and People of Color who live and work as environmental defenders. Through their individual stories, the book shows that the intersection of environment and ethnicity is an asset to achieving environmental goals. The twenty short biographies introduce readers to diverse activists from all around the world, who are of all ages and ethnicities. From saving ancient trees on the West Coast of Canada, to protecting the Irrawaddy dolphins of India, to uncovering racial inequalities in the food system in the United States, these environmental heroes are celebrated by author and biologist Anuradha Rao, who outlines how they went from being kids who cared about the environment to community leaders in their field. One Earth is full of environmental role models waiting to be found.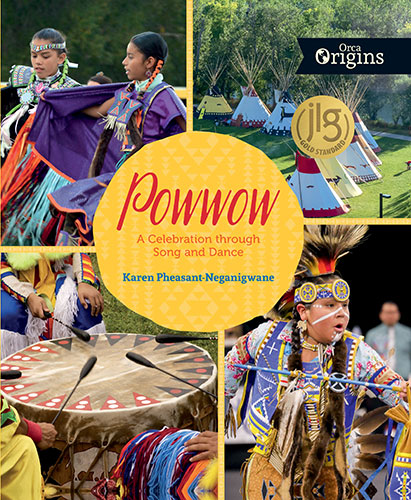 Powwow: A Celebration through Song and Dance
Written by Karen Pheasant-Neganigwane
Published by Orca Book Publishers
Powwow is a celebration of Indigenous song and dance. It's a journey through the history of powwow culture in North America, from its origins in colonization, the Indian Act and the Wild West shows of the late 1800s to the thriving powwow culture of today. As a lifelong competitive powwow dancer, Karen Pheasant-Neganigwane is a guide to the protocols, regalia, songs, dances and even food you can find at powwows from coast to coast, as well as the important role they play in Indigenous culture and reconciliation.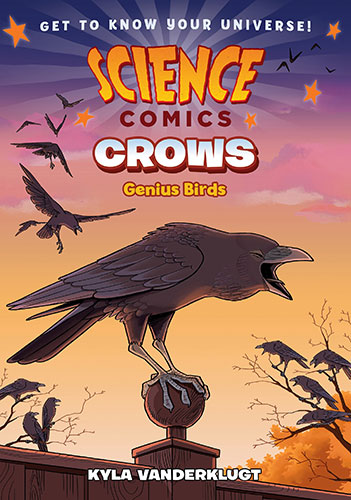 Science Comics: Crows, Genius Birds
Written and Illustrated by Kyla Vanderklugt
Published by First Second, Distributed by Raincoast Books
That's something to crow about! Learn all about these genius birds in Kyla Vanderklugt's Science Comics: Crows, the latest volume in First Second's action-packed nonfiction graphic novel series for middle-grade readers! Every volume of Science Comics offers a complete introduction to a particular topic—dinosaurs, the solar system, volcanoes, bats, robots, and more. These gorgeously illustrated graphic novels offer wildly entertaining views of their subjects. Whether you're a fourth grader doing a natural science unit at school or a thirty-year-old with a secret passion for airplanes, these books are for you! Did you know that crows make their own tools, lead complex social lives, and never forget a human face? Scientists are just beginning to unlock the secrets of the crow's brain to discover how these avian Einsteins can be as smart as some primates, and even perform some of the same cognitive feats as human children! Crows have problem-solving skills that will make you rethink what it means to be a bird brain!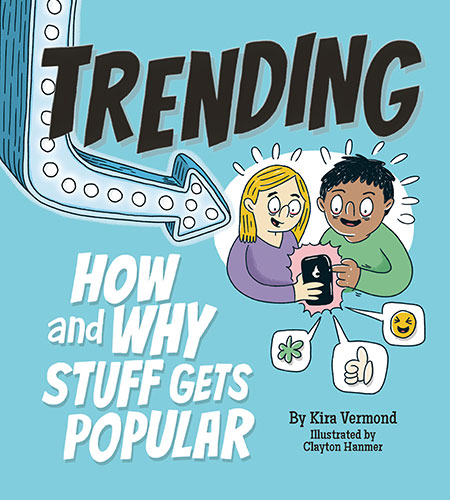 Trending: How and Why Stuff Gets Popular
Written by Kira Vermond, Illustrated by Clayton Hanmer
Published by Owlkids Books Inc.
Fads and trends: How do they start? Why do they spread? And how deep can their impact be? Although trends might seem trivial, if you dig deeper, you'll find that our desire to chase the next big thing can have an even bigger impact than expected. Established middle-grade author Kira Vermond and cartoonist Clayton Hanmer team up in this fun and accessible nonfiction look at fads. In four short chapters, the book explores what a fad is, how the latest crazes catch on, and what makes us jump on the bandwagon. Finally, it looks at the fascinating and even frightening effects of fads both modern and historic. Who knew the beaver pelt craze in 17th century Europe would change ecosystems, start wars, and disrupt life as people knew it? Comic-strip illustrations, an upbeat tone, and reader-friendly text make this a fun and timely tool for young readers who are building critical-thinking skills in the age of fake news and a world gone viral.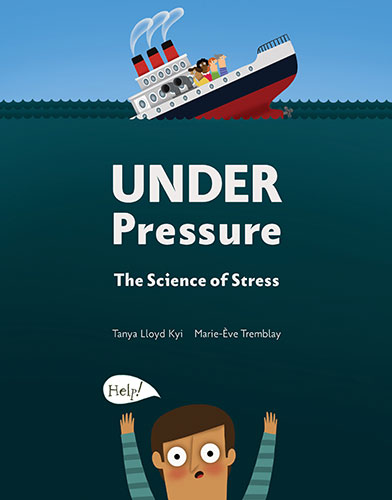 Under Pressure: The Science of Stress
Written by Tanya Lloyd Kyi, Illustrated by Marie-Ève Tremblay
Published by Kids Can Press
Adolescents are no strangers to stress. Here's a book just for them that explores the science behind that sweaty, heart-racing, under-pressure feeling they sometimes get as they struggle to navigate their changing world. It covers the fight-or-flight reaction to sudden danger, how people cope with chronic stress, how trauma can affect the brain, the ways athletes put pressure to work and the surprising treatments scientists have found for stress in everyday life. By examining how pressure affects the human body and different ways to manage it, this book allows middle graders to get a handle on what normal stress is and isn't — and how to deal with it either way. Because knowing the facts can make all the difference.
Tanya Lloyd Kyi has written a clear, well-organized, fact-packed book that is meant to empower adolescents with information about stress. With experts increasingly embracing mindfulness techniques and stress-reduction programs for children, this book is an ideal tool for parents, teachers and students to learn the science behind it all. And its unique focus means it supports science, social studies and health education curricula. The book is divided into chapters and sections that break the information into easily readable chunks, with sidebars and factoids throughout. And the text contains loads of stories and examples, along with simple and often humorous illustrations by Marie-Ève Tremblay, which make learning about stress an enjoyable and interesting experience.