OLA Pre-Budget Submissions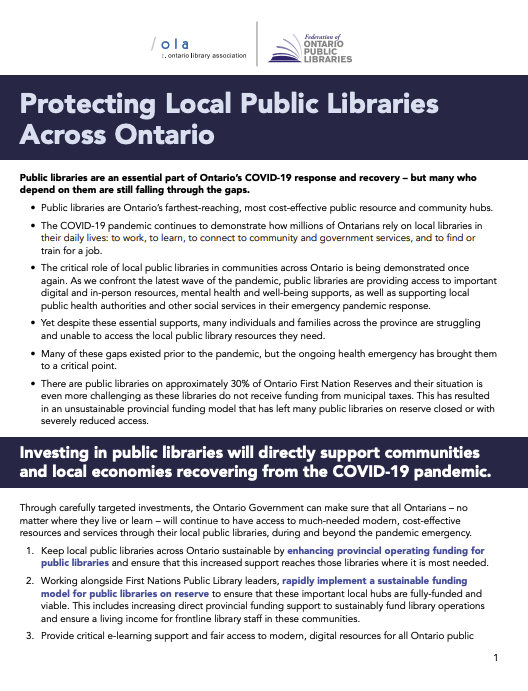 2022 Ontario Pre-Budget Submission
Working alongside our partners at the Federation of Ontario Public Libraries (FOPL), OLA is continuing advocacy for Ontario's libraries.
Our 2022 Budget Recommendation are: 
Keep local public libraries across Ontario sustainable by enhancing provincial operating funding for public libraries and ensure that this increased support reaches those libraries where it is most needed. 
Working alongside First Nations Public Library leaders, rapidly implement a sustainable funding model for public libraries on reserve to ensure that these important local hubs are fully-funded and viable. This includes increasing direct provincial funding support to sustainably fund library operations and ensure a living income for frontline library staff in these communities. 
Provide critical e-learning support and fair access to modern, digital resources for all Ontario public
Read OLA and FOPL's joint 2022 Ontario Pre-Budget Submission 
Past OLA Pre-Budget Submissions
Bookmark this page for information on new budget announcements. Current OLA members will receive updates on budget announcements in their inbox.
Understanding Ontario's provincial budget: Ontario's provincial budget is is typically released annually in April. The government's financial cycle ends March 31 and restarts on April 1. For more information and to see the current provincial budget, visit the Ontario government website.
Understanding Canada's federal budget: Federal budgets have a lesser impact on Ontario's libraries, and are presented annually in February or March. For more information, visit the Canadian government website.