Marketing Libraries Think Tank: Fresh Start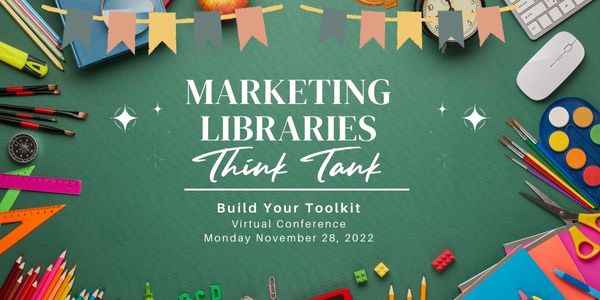 Come to the 2022 Marketing Libraries Think Tank to reset and recharge, build your marketing toolkit, and build a cross Canada network of colleagues.
Join professionals across the country for a virtual day dedicated to channeling your marketing energy. You will learn how to streamline your approach to library marketing and communications, and access a virtual showcase of the best library promotional materials.
Beginning with an exciting keynote from Sarah Stockdale and progressing through practical sessions in communications and reputation management, analytics, media relations, more, this full-day virtual conference offers what you need to be successful.
Leave reinvigorated with skills you can use right away! Full program details can be found here. 
Date & Time:
Monday, November 28, 2022 - Virtual Conference
Registration:

OLA Members - $125
Non Members - $225
Registration PLUS - $200 (includes a one-year membership)
Staff at First Nations Public Libraries - $0
Staff at Public Libraries Serving Under 20,000: $50
The Marketing Libraries Think Tank was created for library marketing professionals by library marketing professionals.  Whether you are a trained marketer or a library staff member responsible for promotions, this event will provide attendees with a forum to share best practices, solve common challenges, and enhance knowledge and expertise.
The Think Tank consists of a mix of sessions and discussions that are based on current trends and issues within our industry. Marketing professionals, presentations from individual libraries, panel discussions and topic-specific roundtables have all formed part of past events.
Committee:
Chair: June Dickenson, Brampton Library
Meagan Anderi, Ontario Library Association
Melanie Boatswain-Watson, Toronto Public Library
Kathy Dempsey, Libraries Are Essential
Mary Kapusta, Calgary Public Library
Shelley McKay, Hamilton Public Library
Tamara Stojakovic, Mississauga Library System
Laurel Taylor, Halifax Public Library


OLA Staff Lead: Michelle Arbuckle, Ontario Library Association
Feb 2016
Mandate:
The OLA Marketing Think Tank Committee reports to the OLA Board of Directors to support initiatives on current issues and strategies related to marketing for libraries in Ontario.  The committee works to organize a networking and education event called the "OLA Marketing Think Tank".
Responsibilities/Objectives:
The OLA Marketing Think Tank Committee will:
provide specialized expertise on the education programming for the event;
identify marketing issues and resources applicable to the audience;
identify opportunities for networking among the library marketing community.
participate in the onsite logistics and management during the Marketing Think Tank conference;
communicate and promote the event to their professional networks;
work with the OLA representative to book speakers and ensure expenses are within the allocated budget.
Deliverables:
The goals of the OLA Marketing Think Tank Committee are to:
plan an education program for a one day marketing event offered to library staff in Ontario;
market Think Tank event to professional networks;
deliver one day event, committee to participate in onsite logistics, speaker assistance and group facilitation;
provide event report and evaluation data to OLA Board of Directors.
 Composition:
Membership shall represent the diversity of the following sectors:  
Academic, ideally representing college and university;
Public, ideally representing diverse needs: rural/urban.
The committee is supported by the OLA Manager, Education Programs and the OLA Communications & Marketing Co-ordinator.
As needed, a working committee will be created to complete specialized, time-limited projects.
Qualifications:
OLA members who have an interest in a leadership role in library marketing.
Members will bring expertise from their own sectors.
Candidates should have marketing experience, which may include: knowledge of current issues that affect libraries; development of communication strategies; and expertise in social media, online engagement and new media technologies.
Resources and Budget:
Resources required for this committee include:
OLA office staff support for teleconference arrangements and completion of meeting minutes, as needed; maintaining a public marketing think tank web page on the OLA website; posting/archiving of materials on OLA website
Meeting space at OLA Office, as needed (1-2 times per year)
Funds for expenses related to event programming
Funds for expenses related to travel
Timelines
Committee members can expect a minimum of 3 meetings per year, which will be a mix of teleconference and in-person (e.g., at OLA Office). The combined meeting and workload time (i.e. developing strategy, creating plans, attending meetings, building networks, etc.) is estimated to be approximately 6 days per year. OLA covers meeting expenses.
The OLA Marketing Think Tank Committee will report to the OLA Board at least once per year. 
The Meeting Agenda should be available to members at least 2 days prior to meetings.  Minutes will be completed by OLA staff or committee designate and made available as soon as possible following meetings.  These items will be distributed to committee members through email and also archived in the OLA project management tool, Basecamp.  Communication between meetings will usually be conducted through email.
Type of Committee:
         Standing Committee (responsible for a specific program or function)
         Task Forces (time-limited tasks on a specific topic)
         Action Groups (development of a limited program or activity)
Term of Appointment: 
The term for OLA Marketing Think Tank Committee members generally runs for a period of 3 years, with the option to extend up to an additional 2 years at the discretion of the OLA Board.  Member terms overlap to ensure knowledge transfer and consistency.  Committee members are recruited from the OLA membership at large, as required. 
Co-Chairs will be appointed annually from within the committee. Terms are staggered terms of 2 years. Co-chairs are responsible for coordinating the agenda, facilitating meetings, ensuring portfolios are assigned, liaising with OLA staff leads and reporting to the OLA Board.