Volunteer Call-Out: InsideOCULA is currently looking for Digital Editors. These two-year volunteer positions have a time commitment of approximately 8–10 hours per month. Check out the full opportunity here.
Editor-in-Chief: Melanie Parlette-Stewart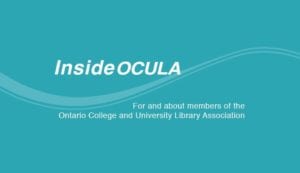 About: InsideOCULA is the official publication of the Ontario College and University Library Association (OCULA). It fosters an engaged academic library community by showcasing the programs, activities, and research happening in university and college libraries across Ontario. Articles are published throughout the year via Open Shelf.
Submissions are welcomed for its three regular columns: Features, Around the Province, and Research Spotlight. Submissions and questions should be directed to insideocula@gmail.com. Contributors should also refer to the Submission Guidelines and InsideOCULA Style Guide.
Access all InsideOCULA articles on Open Shelf.

InsideOCULA Archive
*includes past print and electronic editions.
Our website is currently being updated. If you wish to receive a back issue of InsideOCULA that is not available on the Open Shelf website, please contact communications@accessola.com.