September 29, 2020 @ 7PM EST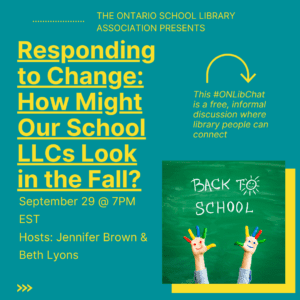 ONLibChat | Responding to Change: How Might Our LLCs Look in the Fall?
Date & Time:
September 29 @ 7PM EST
How to Join
Online (no registration or Chime account necessary) https://chime.aws/3762404231
Call in using your phone: Canada Toll-Free (1): +1 844-843-8537 Meeting ID: 3762 40 4231
Description:
We know that school library professionals across Ontario have done a tremendous job responding to the sudden shift to online distance learning. Now, more than ever, the knowledge and skills that come with a well supported and staffed school LLC are necessary to assist staff and engage students. In light of the recent Sick Kids report about health considerations for a possible return to school in the fall, we would like to connect with members in a supportive and candid conversation to discuss the potential challenges and impacts that opening schools in September might bring to the K to 12 school library community.
About the Facilitators:
Jennifer Brown is a teacher librarian in the Peel District School Board in Brampton, Ontario.  In her current role at a K to 8 dual track school, she has the tremendous privilege of co-constructing the vision for the library learning commons with students, staff & community members. Since beginning her teaching career in the late 1990s, Jennifer always had a passion for & interest in social justice & equity in education. Her work as a teacher librarian reflects this dedication to equity, inclusion and student empowerment. Grounded in the vision set forth in OSLA's Together For Learning, Jenn strives to create a library learning commons based on student voice, trust and believing in children to guide their learning.  As a Librarianship Specialist, she actively engages in the ongoing study & implementation of innovative pedagogical practices in the school library learning commons to support & mentor fellow educators & foster student success. Currently, Jennifer is serving as OSLA past-president, a contributor to both The Teaching Librarian Magazine & Open Shelf the OLA online magazine, as well as a steering committee member for the Peel Elementary Teacher Librarian Association. Feel free to connect with Jenn on Twitter @JennMacBrown
Beth Lyons is currently a teacher librarian in the Peel District School Board. She consistently reflects and shares about her own learning journey as an educator and a teacher-librarian in the Library Learning Commons on her blog The Librarian's Journey and on Twitter (@MrsLyonsLibrary).  Beth has been actively involved in the transition of the Library Learning Commons at Larkspur Public School and sees the role of the teacher librarian as a curator, an advocate, a risk taker and an ally. As a Librarianship Specialist she believes the ability to see the big picture of curriculum and content integration is central to our roles as school library professionals as we engage with educators and students daily. Asking questions, making mistakes and learning together are a vital piece of a school library professional's position as they co-plan, co-teach and co-learn with the wider school community and stakeholders. Beth believes in encouraging students and educators to bring their voice and ideas into the LLC as the space continues to evolve. Currently, Beth is serving as OSLA vice-president, a contributor to both The Teaching Librarian Magazine and the Canadian School Libraries Journal, and is one of the co-hosts for Read Into This (@into_read) a podcast about all things reading, books, school libraries and education.