Ontario School Library Impact Project 
Measuring the Information Literacy Skills Gap
For many years, OLA members in School and Academic libraries have observed significant gaps in the information literacy skills of high school students transitioning to post-secondary education. To better understand these gaps and how to address them, OLA initiated the Ontario School Library Impact Project (OSLIP) in 2018 to investigate the impact of school libraries on the information literacy skills and abilities of students entering post-secondary education in Ontario.
After 2 years, the results are in.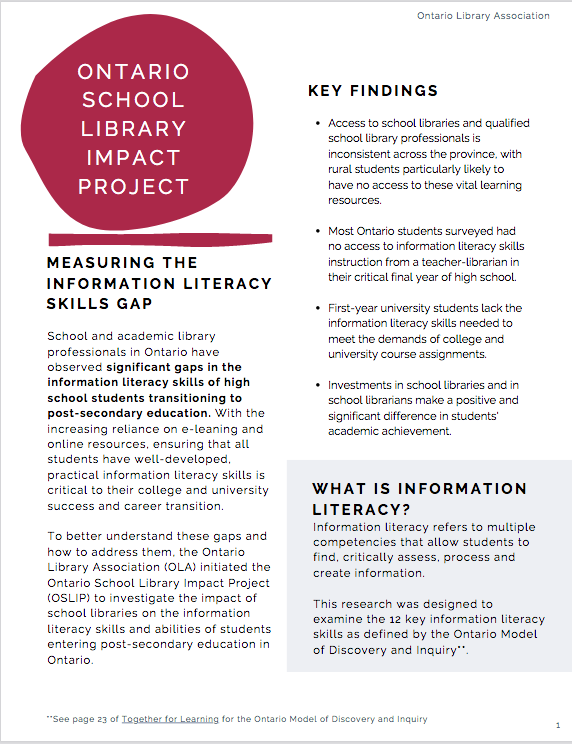 Learn more about the Research and Results (7pages)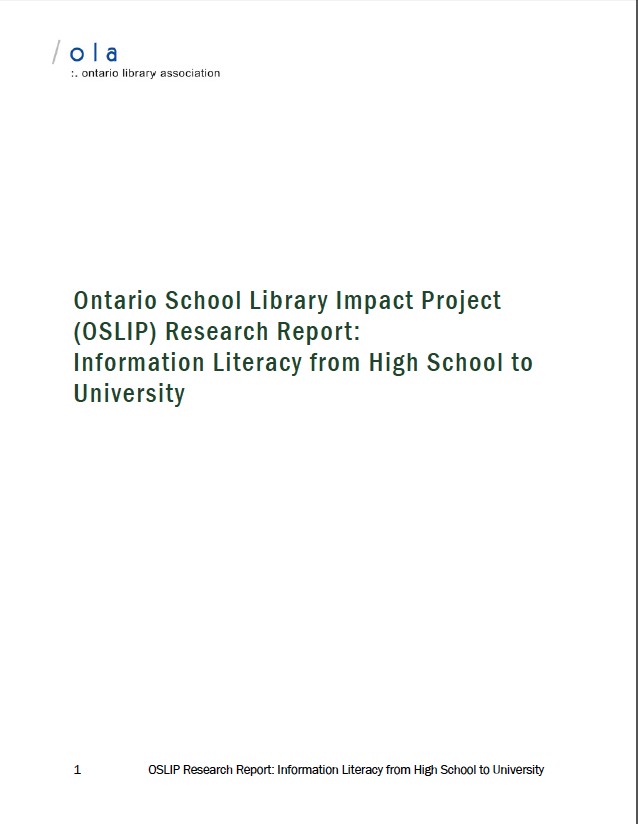 Read the full OSLIP Research Report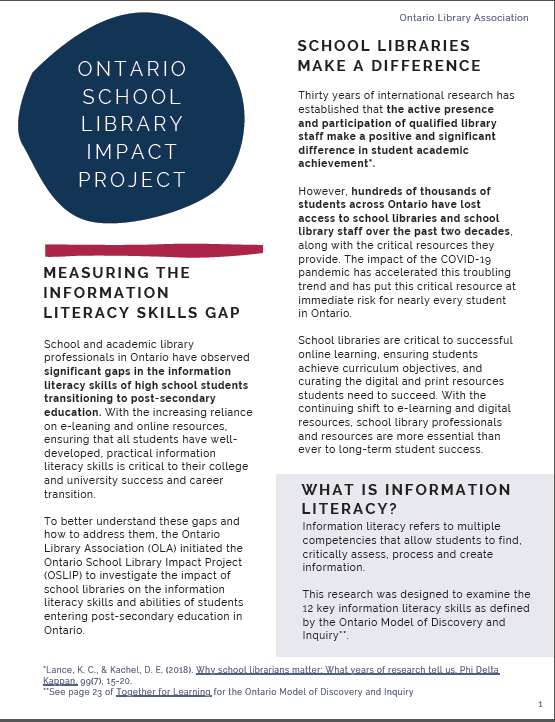 High level Research Summary (2 pages)
SCHOOL LIBRARIES MAKE A DIFFERENCE
The OSLIP report highlights:
Investments in school libraries and in school librarians make a positive and significant difference in students' academic achievement.
Access to school libraries and qualified school library professionals is inconsistent across the province, with rural students particularly likely to have no access to these vital learning resources.
Most Ontario students surveyed had no access to information literacy skills instruction from a teacher-librarian in their critical final year of high school.
First-year university students lack the information literacy skills needed to meet the demands of college and university course assignments.
The Ontario School Library Impact Project was led by a committee of researchers and practioners:
Co-chair: Mary Cavanagh (University of Ottawa),
Co-chair: Marc d'Avernas (Waterloo Region District School Board),
Dianne Oberg (University of Alberta)
Heather Buchansky (University of Toronto),
Kate Johnson-McGregor (Grand Erie District School Board)
Sarah Roberts (Ontario Library Association – ex-officio).
An Advisory Committee, chaired by Courtney Lundrigan (University of Toronto)  provides ongoing feedback and guidance on all stages of research. This group represents diverse stakeholder groups, including school libraries, academic libraries (colleges and universities), regional distribution, small v. large communities.